Den 20 maj var Michael Sheen (Aro) Booboo Stewart (Seth) och Christian Serratos (Angela) på ett event i Los Angeles, Kaliforninen 13th Annual Young Hollywood Awards .
[
Källa
]

/Julia
Titta vilka mer som var i hennes kategori erfarna skådespelare som varit i branschen mycket längre än Kristen att hon vinner över dem visar verkligen hur duktig Kristen är!
/Julia
Här är en lite halvbra video från när Kristen Stewart håller sitt tacktal från PCA!
/Julia
Nu har PCA precis slutat och Kristen Stewart vann ju pris för
"best movie actress"
stort grattis till Kristen! Hon tävlade mot Julia Roberts, Jennifer Aniston, Angelina Jolie och Katherine Heigh. The twilight saga Eclipse vann pris för
"best movie"
, jag blev så glad när dem vann satt och skrattade av glädje typ ha ha!
Här är bilder från när Kristen tog emot sitt pris!
Har tyvärr inga bilder än från när twilight trion tog emot sitt pris, men här kommer några från när Queen Latifah kom och pratade med dem istället :)
/Julia
Razzies Awards har nominerat skådespelare i "Worst Actor", och både Taylor och Robert Pattinson är förvånadsvärt med på listan! :@ Och Taylor leder just nu, det måste vi ändra på så gå in
här
och rösta
INTE
på Rob eller Tay!
Källa

/Lisa
Rösta på Kristen och
Robert
som det bästa kändisparet från 2010 i en omröstning på MTV
här
! Just nu är de i ledningen, men de kan behöva ett par röster till för att behålla den platsen! :D
Källa

/Lisa
Översatt till svenska:
Ja, ja, vi håller alla med om att Oprah var  ah-may-zing, men om vi var tvungna att välja våra favorit besökare från utlandet för 2010 kan vi inte förbise Kristen Stewart och Taylor Lautner. De två åkte på en månadslång promotion turne för Eclise och stannade i Syndey i Juni. Duon höll ett speciellt event för
Eclipse
i Luna Park och svarade på frågor från fans. Vi hoppas att skådespelarna kommer hit igen nästa år när de promotar breaking Dawn!
På Engelska:
Yes, yes, we all agree that
Oprah
was ah-may-zing, but if we had to pick our favourite overseas visitors for 2010 we can't go past
Kristen Stewart
and
Taylor Lautner
. The pair went on a month-long promotional tour for
Eclipse
and
stopped in Sydney
in June. The duo held a
special
Eclipse
event at Luna Park and answered questions from fans. We hope the cast makes it Down Under again next year to promote
Breaking Dawn
!
[
källa
]
/Amanda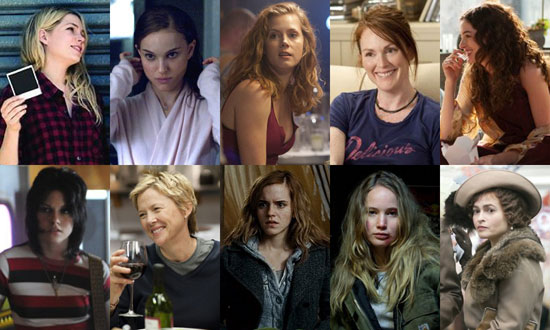 Rösta på Kristen som bästa drama skådespelerska i rollen som Joan Jett i The Runaways eller Mallory i Welcome To The Rileys !
Rösta här!
/Lisa
just nu ligger hon tvåa på terra.com. Rösta på nu!
RÖSTA HÄR!


Källa
/Lisa
Idag är det sista chansen att rösta på Kristen och Robert i "Richard Attenborourgh Film Awards" röstningen avslutas idag så rösta nu, ni kan rösta en gång på varje länk!
SÅ RÖSTA, dem behöver er!
/Julia